Dear Opti Fans!
Allow me to share one of my big research project with you!
The original plan of the research of the results of European Championships was to find a relation between results – national/club programs – qualification systems. There are many things in the development of an athlete (or a team of athletes), which are well known for coaches. However I wanted to give a statistical evident of these things and theories.
The research is (of course) hungarian related and I don't want to bother you with national details. However just look at this one chart. It shows, that an athlete of a nation with smaller national fleet, needs to participate 2-3 times on Europeans to get a better result. Well it is a clear situation; a sailor needs to get used to the strength of a continental championship. Now we have a chart for that too.

The side effect of the research is more interesting for everybody who is somehow involved in optimist sailing.

The first European Championship was held in 1983, however I started the research from 1988.
In this year the Euroepans was in Hungary, so to get the result list was easy.
I received many result lists from Robert Wilkes, from a former secretary general of IODA. Thank you again Robert! The rest, mostly from 2000 are from my own collection.
Unfortunatelly middle '90s are strongly missing, so if you "accidently" have them please share with me to make this collection complete. Thank you!
The oldest webpage of European Championship what I found...which still active (!) is the 1999' Athene, Greece. (Good old html codeing!)
http://www.eio.gr/optimist99/foverall.html
http://www.eio.gr/optimist99/moverall.html
So the diagrams (charts):
At every chart the * means, that few years missing: 1991-1995, 1997-1998; and simetimes only boys/girls listst are missing.






And the same charts about girls:



A boys-girls comparison:


And a chart about host countries: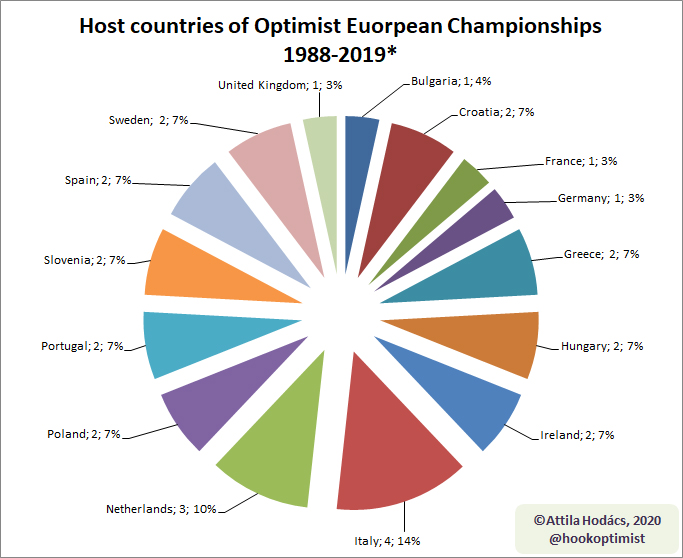 And finally, the result lists of EUROS 1988-2019* are below.
Few years missing: 1991-1995, 1997-1998; and sometimes boys/girls listst are missing.
If you have them please send it to me to make the collection totally complete!
Well, that's all!
Attila Hodacs
@hookoptimist